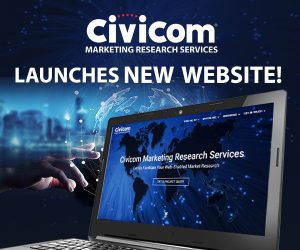 Civicom Marketing Research Services Unveils Redesigned Website
GREENWICH, CONN. (PRWEB) MAY 16, 2019
Civicom Marketing Research Services, a global leader in marketing research facilitation, has launched its new website at www.CivicomMRS.com. The website address remains the same. The revamped website features a visually engaging design with a streamlined functionality that expands on the global leader's mission to deliver exceptional marketing research solutions and provide unparalleled customer service.
The Civicom Marketing Research Services website has been upgraded to incorporate enhanced usability and features content-rich pages that highlight Civicom's innovative suite of telephone and web-enabled market research tools and solutions. This includes facilitation services for in-depth interviews and focus groups, online community platform solutions, mobile research tools for website and usability testing, qualitative audio diaries and mobile ethnography, qualitative multimedia management and curation solutions, respondent recruiting services, and market research transcriptions and translation services in over 90 languages.
With a more intuitive navigation and improved accessibility, visitors can easily and seamlessly find service and support information as well as expert marketing research resources, such as informative blogs, eGuides, and fresh case studies. Visitors can also read the latest news featuring the company's involvement in various industry conferences and its rollout of new products and services. The website is also fully responsive on smart phones, making it easy to view on a wide range of web browsers and portable mobile devices.
Civicom continues to strengthen its online presence that encapsulates its versatility in serving clients ranging from independent insights professionals to the largest global marketing research firms. As a global leader in providing marketing research services, Civicom caters to over 96 countries worldwide. The website redesign enhances the company's further global reach and availability to clients.
For more information on Civicom Marketing Research Services and to view the newly redesigned website, please visit http://www.CivicomMRS.com.
"Civicom Marketing Research Services invites users to their newly redesigned website at www.CivicomMRS.com for an enhanced experience in accessing leading edge marketing research solutions."
About Civicom Marketing Research Services
Civicom Marketing Research Services offers many options to enhance the research process for marketing research professionals. Civicom is the global leader in facilitating telephone and web-enabled in-depth interviews and focus groups using Civicom CyberFacility®. Civicom also offers Civicom Chatterbox®, an asynchronous research platform for online communities and bulletin boards, plus the Civicom ThoughtLight™ Mobile Insights App, a mobile qualitative tool for collecting richer in-the-moment insights, useful for shopper insights, audio diaries, and patient journeys.
Civicom's Glide Central® is an online qualitative media management platform where researchers can view recordings, create tags, produce transcripts, make clips, and harvest key insights. Glide streamlines within one platform much of the manual, tedious video curation process, which accelerates analysis and improves the turn-around time of delivering impactful reports.
Civicom operates in over 96 countries and offers extensive translation services for marketing researchers, as well as transcription services through TranscriptionWing™, and market research respondent recruiting through CiviSelect™.
Civicom developed CCam focus®, a portable 360° HD streaming solution with video curation capabilities for live, in-person focus groups, which enables market researchers to record and stream in-person interviews and focus groups from outside-facility locations such as a hotel, conference room or a home, as well as within a focus group facility. With a 360° perspective for remote viewers, plus active speaker view, CCam focus ensures every response is captured. The result is omnidirectional viewing of all participants. Integrated video curation tools assure video deliverables are generated within minutes for review of key moments. Civicom also provides personalized service and support for set up, troubleshooting and assistance throughout every session.
Civicom Marketing Research Services and Schlesinger Group have now partnered in a Strategic Alliance to mutually serve the needs of clients needing web IDIs and focus groups combined with high quality recruiting services. All of these services are available in Spanish, as well as English, and multiple other languages.
Civicom Marketing Research Services continues to be at the forefront of innovation and new strategies in marketing research, actively participating in various conferences and networks that engage in developing new techniques with the latest technologies globally. Civicom is known among its clients for dedication to service quality and for the company's motto "Your Project Success Is Our Number One Priority."
Civicom Marketing Research Services chooses to be as dynamic as it is innovative; always listening to and acting on clients' ideas and requests as they see fit. This kind of relationship has paved the way for the development and roll-out of new services. To learn more, email Civicom® at inquire(at)civicommrs(dot)com or call +1-203-413-2423.
Source: PRWeb