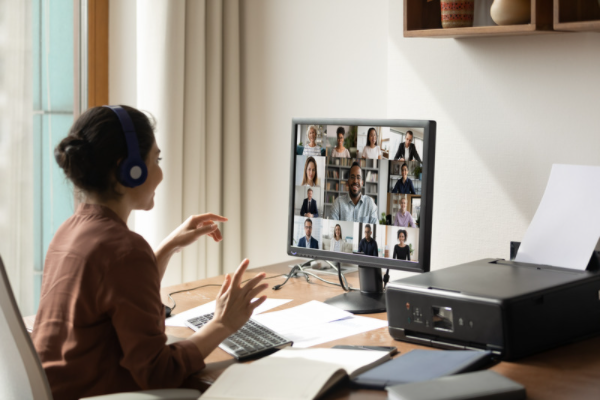 As the world transforms into the age of digital transformation, one would think that in-person focus groups would become obsolete – but a more fitting statement would be that they are evolving. In the past few years, live stream focus groups have had a massive surge in popularity due to the many benefits they can offer to researchers, clients, moderators, and participants.
The main selling point of focus group streaming platforms is their flexibility. With the help of streaming technology, sessions can be viewed in real-time by remote client observers and participants while a moderator conducts the focus group at a market research facility or another venue. This takes away the hassle of logistics and additional travel costs in exchange for convenience and accessibility.
But as a researcher, what can you expect from a focus group streaming platform that can provide you with the best results? Here's a quick overview of some features you should look out for when selecting a streaming solution for your next focus group.
High-Quality Audio

and Video
Even with the benefit of contactless facilitation, people tuning into a session remotely still want to have the impression of sitting at the same table even if they aren't physically present. With an HD streaming and recording solution, you could do just that.
A streaming platform that could provide a 360° camera and omnidirectional microphone can offer remote viewers crystal clear audio and video for a truly immersive experience. This ensures that even the smallest detail won't be missed. The flow of conversation and any stimuli presented can be clearly seen, heard, and captured for later analysis.
Multiple

Camera Angles
In focus group streaming, you would want to see the session in every perspective, whether it be zoomed in, full face, or panoramic. By utilizing a streaming platform that can accommodate multiple camera angles, researchers can place remote viewers in the midst of the conversation – allowing in-facility participants' reactions, emotions, and non-verbal cues to be more clearly witnessed as the camera automatically follows the discussion.
Having multiple camera views can also give you the benefit of viewing the entirety of a session on one screen. This includes everyone participating in the session remotely or in person.
Remote

Access
Researchers should expect an adequate focus group streaming platform to have remote access capabilities. With easy access to the session through live stream, focus groups can go beyond their existing parameters and right into the boardroom.
By clicking a simple link, remote clients, participants, and boardroom observers should be able to view and engage in a session. Having remote and in-facility people interact with one another through the platform helps researchers gain quality insights for confident decision making.
Project

Management Hub
To ensure that all your projects are on the right track, it is imperative that your streaming solution has a dedicated hub for storage and organization. With a project hub, you can keep your team updated on deadlines, tasks, and project statuses. This enables you to sectionalize each project accordingly to avoid any mishaps. You can also keep your clients in the loop by providing real-time updates directly on the hub, thus eliminating the need for unnecessary back and forth communication.
Video Curation and

Collaboration Tools
In conducting a hybrid focus group, a single session can generate a lot of data and video. This could mean hours of trawling through content that is often too complex or difficult to manage. To avoid this dilemma, your focus group solution should include video curation and collaboration tools to give moderators the ability to form compelling, data-driven stories beneath quantities of footage.
By using these tools, you would be able to:
• Review footage and collaborate with your team for a more thorough analysis
• Create a transcript from your recordings to review the entirety of your focus group discussion and analyze any findings.
• Mark, tag, and clip key points to highlight observations and share the customer voice with clients more effectively.
•

Build a storyboard to showcase your clips in a clear visual narrative.

Portability
With multiple tasks that need to be accomplished when facilitating a focus group, you don't want to add the burden of lugging around heavy recording equipment everywhere you go. Your platform should provide equipment that is compact, easy to carry, and takes minutes to set up.
As long as there is an outlet and internet connection, you should be able to stream and record your sessions wherever your research takes you. Having portable equipment enables you to conduct your focus groups conveniently and efficiently.
Security and

Tech Support
As with any study, you would want your data to be protected at all times. In line with this, your streaming platform should store your files in a secure place for convenient access whenever and wherever you need them and be GDPR and HIPAA compliant. These necessary precautions prevent any personal information from falling into the wrong hands.
Tech support should also be available during your sessions to ensure that everything works well and you don't have to stress about the details. Having your session recorded twice also provides an extra layer of security so that any unforeseeable errors don't affect your data.
Competitive

Pricing
Low-cost focus group streaming doesn't have to mean low quality. Nowadays, focus group streaming solutions provide excellent service at an affordable price. They can create collaborative and competitive pricing arrangements that are advantageous for everyone involved.
Expect Unparalleled Service for Your Livestream Focus Groups With Civicom CCam® Focus
CCam Focus is the premiere recording and streaming solution that delivers uncompromised video and audio quality for in-person interviews and focus groups. Its unique hybrid capabilities enable in-person research to be led by a moderator facilitating remotely while respondents are located elsewhere. Have a unified solution for curation, storage, and sharing to keep your attention on the research instead of the logistics. Explore how CCam can enhance your in-facility project.